Catalog 2020-21
[ARCHIVED CATALOG]
Catalog 2020-21
---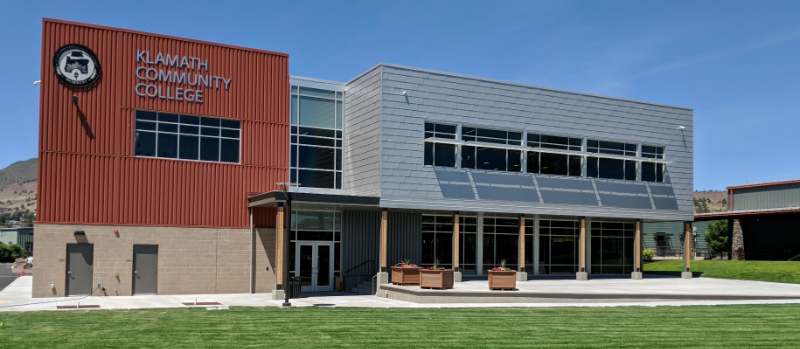 KCC Mission
Klamath Community College provides accessible, quality education and services in response to the diverse needs of the student, business, and community.
The College supports student success in workforce training, academic transfer, foundational skills development, and community education.
Core Themes
Provide accessible education and services
Provide quality education and services
Meet the diverse needs of the student, business, and community
Support student success
Strategic Initiatives 
Access
Prosperity
Excellence
Community
Planning
Accreditation
Klamath Community College is accredited by the Northwest Commission on Colleges and Universities.
Klamath Community College Non-Discrimination and Equal Opportunity Policy
It shall be the policy of the Klamath Community College District to affirm the rights of all individuals to equal education, activities, facilities, and employment without regard to age, sex, disability, national origin, race, marital status, religion, or sexual orientation in accordance with federal and state laws. Klamath Community College complies with Titles VI and VII of the Civil Rights Act of 1964, Title IX of the Educational Amendments of 1972, and Section 504 of the Rehabilitation Act of 1973, and Title II of the Americans with Disabilities Act of 1990, and any amendments thereto.
Inquiries or grievances concerning the application of these laws and regulations to the College may be directed to the Klamath Community College's Executive Director of Human Resources and General Counsel at 7390 South 6th St., Klamath Falls, OR 97603 or at 541-882-3521 or to the Director, Office of Civil Rights, U.S. Department of Education, Washington D.C. 20201.
Accommodations
If a person with a disability needs assistance in order to attend or participate in a college event or meeting, please notify the Disability Specialist at 541-882-3521 within 3 days of the meeting.
Klamath Community College Photo and Video Policy
While KCC reserves the right to take candid photographs and video at public and College-sponsored events on and off the College premises, and to use the resulting images and video for internal and external distribution without seeking consent from each individual depicted, if an individual advises the photographer that he or she is declining to be photographed, the photographer will comply with that request.
KCC employees and agents will give notice of photo shoots in access-limited venues, including classrooms, laboratories and offices. Photographers will comply with requests not to be photographed.
In posed or formal photo sessions, photographers will obtain verbal permission from photographed individuals.
Changes in Catalog Content
The information in this catalog was accurate as of the publication date. Since this is, in effect, a living document, it is subject to change as the College grows. Any additions, deletions or corrections that may occur after its publication are part of a normal change process. Therefore, KCC encourages students to visit its website regularly for the most current information in any chosen field. Students may also contact KCC at 541-882-3521 with specific questions or for clarification about programs, policies, procedures, or other information in this catalog.
---